The Martin Brundle Quotes Page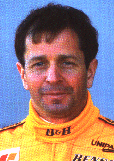 Martin Brundle has had an established career as a motor racing driver, but after failing to get his contract renewed for the 1997 FIA Formula 1 World Championship he found a new home in the ITV commentary box along-side veteran commentator and cult figure Murray Walker.
Martin proved to be a breath of fresh air and - some say - was the best partner Murray's had since the late James Hunt. With his intimate knowledge of modern F1 racing and a sharp wit, Brundle has proved to be a hit with the fans.
This site was an attempt to catalogue some of the best of his frank and humourous observations and occasional gaffes. The most recent site cataloguing Martin's commentary is Martin Brundle (and His Friends).
Thank you to everybody who has contributed. E-mail addresses or names are against the relevant quotes, or left anonymous as requested. My thanks also to Helen Gerald and David Wright. Special thanks to Callie Sullivan, who co-authored the site with me from the 2000 season onwards.
Apparently Martin has seen this site and enjoyed it!
So, without much further ado, it's over to Martin....
"Next time the Grand Prix is on, turn the volume down and start talking.
See how far you get before you run out of words, or start repeating yourself, or you make a mistake.
And it's not very far."
---
Old Quotes
"It's live. When those words come out of your mouth they're gone - forever.
Sometimes you want to claw them back again."
Martin's previous musings can be found in the 1997, 1998, 1999, 2000, 2001 and 2002 archives.
---
Site closure note
The 2002 season marked the end of my stewardship of the Martin Brundle Quotes Page. While this site will no longer be updated, it will remain online as an archive - see the "Old Quotes" section, above.
Thank you to everyone who has contributed, commented or simply "just" visited this site.
And obviously, thanks to Martin, for such an enjoyable commentary.
David Crick
November 2002
---
*** Links to successor sites ***
Callie Sullivan was instrumental in the running of this site in its closing years. She started her own site, Martin Brundle's Racing Lines, to continue the tradition. With Martin's move to Sky, Callie has now also stepped down.
The most recent site to start cataloguing Martin's commentary is Martin Brundle (and His Friends), run by Mak. Please visit his site to continue the tradition, and lend your support by submitting new quotes to him. I wish Mak all the best in his efforts.
---
Document Copyright 1997-2012 David Crick.
Last Updated: 11 March 2012
---